!–[if IE]> <![endif]–>

The very first all-electric fused glass furnace in Taiwan focus on heat resistant
glass products that stunned the industry
Yama Heat Resistance Glass Co., Ltd.
Yama Glass specialized in heat resistant glassware equipment since 1978. Located in Taiwan, the Yama Glass factory specializes in beautiful hand-blown & Automatic made glass products such as coffee brewers, tea servers, baking dishes and lid for stew pan that are both tempered and heat resistant.
There are only a few hand-blown glass factories left in the world. Yama Glass is one of the largest and also an environmentally friendly factory certified as a "superior manufacturer," conforming to environmental protection processes.
Yama wish to make your everyday exquisitely better. Take your favorite part of the day and add fuller flavor coffee or tea thanks to science and on top of that add art! That's right, the art of glass, brought to you by Yama.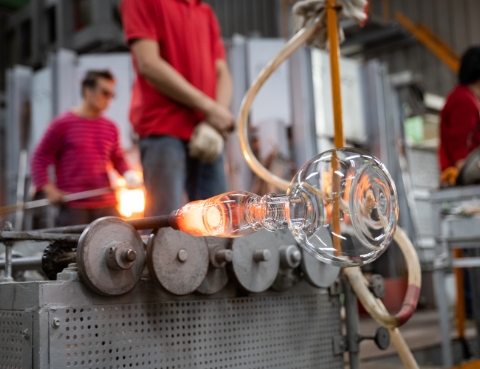 Specialist in Hand Blown glass products
Yama Glass is the first in Taiwan to use an all-electric fused glass furnace with a melting temperature of 1500 degrees or more and use special ingredients to produce tableware glass without heavy metal residues.

Our products are made from the ingredients of silica sand, borax and boric acid which are 100% recyclable which also conforming with the food grade testing standard through major testing agencies around the world.

READ MORE
Yama glass promise to maintain both high quality and compliance with the high standards of environmental protection with zero pollution.
No drain water, no exhaust emission, contamination free and production equipment fully meets environmental protection standards.
The recycling and remanufacturing of glass is in line with green products. Yama Glass takes a part in maintain the responsibility of environmental protection and coexisting with the natural environment.

Hand Blown product series
Coffee Brewer, Tea Server Products.
Glass Pressing product series
Beverage Server, Glass bakeware, Microwave Oven Utensils.
READ MORE